Obituary for Cade Liberty Boles
Cade Liberty Boles was born in Oklahoma City, OK on January 21, 2003, and passed from this life on October 13, 2017. Cade touched and changed the lives of everyone he came into contact with.
Cade was born in Oklahoma City, OK, and was in the 8th Grade at Tuttle Middle School. He played quarter back and safety for the 8th grade team at TMS, he played basketball and ran track as well in the 4x1, 4x2, 4x4 and the 100. Above all he was a devout Christian that truly loved the Lord with all his heart. He attended the 84th Street Church of Christ in Oklahoma City.
Cade enjoyed every single day of his life and not once complained about a single thing. I think everyone would agree with me that Cade did not have a bad day. Every-time you saw Cade he would smile or do his famous "Cade Smirk". Cade loved the Lord with all his heart and everyone that we have seen the past couple days are a testimony to that. Cade also loved football, his teammates and his peers. Every-time Cade talked he had something positive to say. The reason we are all here is because of the impact a 14-year-old boy had on each of our lives. Teachers, parents, students and teammates will never forget Cade, and it isn't because of how fast he was, how good his hair looked, or because of the newest shoes he had on. People Loved Cade because he truly loved everyone. No one is as sweet as Cade was. Cade's heart was full of love and joy, we all can feel it now. The tears will come and laughs will shortly follow because that's what Cade would make you do. He would make you cry because of his tender heart and he would make you laugh because he was full of joy. Cade loved his family, he was the sweetest child to parent and the sweetest sibling to the siblings. Cade was a blessing to us all. Since the day he was born he brought smiles and laughs to each of us and made us better people every day. When Cade was in the car the radio was off and a conversation began. He loved to tell stories, he liked to act them out even more. His laugh may interrupt the story but it was the sweetest sound that we all miss so much. He wanted to make people happy, not for any personal gain whatsoever, Cade lacked the selfish tendency we all have. The things that made Cade happy are when he could make others happy. Whether that was getting a water from the garage, laughing at a silly joke we tried to make or simply listening to us complain only to point out the positives in our situation. We all said Cade grew up way to fast. He was more mature than any of us and his thoughts were so pure. He always had the best of intentions and believed others did as well. We will all miss seeing that #3 on the football field for the years to come but we are comforted knowing that you're okay with that. A football game is the furthest thing from your mind. Cade is in a place where there are no tears, heartbreaks, lies, evil, time, or death. Cade is with God now it is up to us to live a life like Cade and strive to be like Christ, so we can spend an eternity together again.
Cade is survived by his loving parents David John Boles & Dara Lynn Anspach Boles, sister Janae Hogland and her husband, Tyler Hogland, brother David John Boles II, brother Rhett Warren Boles, grandparents Warren Boles & Lynda Boles and Devra Anspach, along with multiple aunts, uncles and cousins. He will be truly missed by all who knew him.
Friends and Family are invited to the funeral service on Wednesday, Oct. 18th 2017 at 10:00 am at The New Tuttle High School, 300 N. Cimarron, Tuttle, OK 73089.
To send flowers or a remembrance gift to the family of Cade Liberty Boles, please visit our Tribute Store.
Previous Events
Service
Tuttle High School Gym
305 N Cimmaron Road
Tuttle, Ok 73089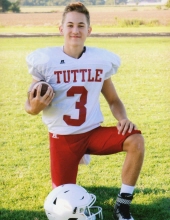 Thank you for sharing your
memory of Cade
Provide comfort by sending fresh
flowers from our local florist.
No thanks, please don't show me this again.