Obituary for Thomas Griffin Barry
Thomas Griffin Barry
Thomas Griffin Barry was born on October 16, 1942 in New York City to Elizabeth Griffin and Joseph Thomas Barry. Tom's father Joseph was a graduate of Brown University and worked in the real estate industry; mother Elizabeth was a Smith College graduate who built a career in Social Work, at first for the ASPCA and later managing the Denver Children's Home.
As a young boy, Tom's family moved to Boston, Massachusetts and Tom fondly recalled going roller skating with his mother on the Boston Commons; in later life, Tom always knew his way around the Boston area during visits. Tom also recalled a special party that happened in the family home in the Boston area when his mom suddenly interrupted the party and took Tom out for a walk. Tom later learned that a group of MIT students at the party had discovered what was to be Tom's present that Christmas: a train set. The MIT students were fascinated and took it apart, piece by piece. When Tom's mother discovered this, Tom later learned, she took Tom out for the walk and instructed the students to have the train set reassembled before they returned.
Tom's family moved again, to Elgin, Illinois, where Tom graduated from high school in 1961. Around the time Tom graduated from high school, he had already earned his pilot's license, and the United States Army wanted Tom for a helicopter pilot. But Tom wanted to fly jets, and so he pursued the Air Force. But the Air Force required a college degree for jet pilots, and Tom was only a recent high school graduate with one year of college at the time. But Tom loved all things aeronautical and so he and the Air Force compromised: Tom went into the Air Force, but as an Air Traffic Controller; it grew into a career that he loved. He was stationed at Tinker Air Force Base, but he was deployed for several years during the late 1960's in the Philippines, serving at least two multiple-year tours there.
During this early phase of his Air Force career, the Air Force sent Tom to the NCO School for leadership training, and while there he won the Commandant Award, a doubly prestigious award because the nomination comes from a vote of the fellow students – only two could be nominated – and then the Commandant of the School selects the winner; the Commandant selected Tom.
During the 1970's Tom remained stationed at Tinker Air Force Base, but served many "TDY" (temporary duty) deployments around the country in places like Michigan and Wisconsin and Alaska, as well as all around the globe. There are very few places in the world with a U.S. Air Force presence where Tom was not deployed TDY at some point.
Tom met his wife Linda in 1980; each of them was recently divorced from an earlier marriage. Tom asked Linda out, and they agreed to meet at a certain restaurant. For his own reasons, Tom did not show. Unbeknownst to Tom, neither did Linda. When they ran into each other later, Tom apologized for missing the date. Linda heard him out, and then coolly informed him that she had not shown either – she had gone on a date with someone else. Nevertheless, they did finally go out on that first date, and were married during the following year, in February 1981. Linda brought daughter Chanin and son Sean, while Tom brought son Brian. All formed a happy blended family.
Shortly after they were married in 1981, Tom received orders from the Air Force deploying him to Mainz-Kastel Air Base near Frankfurt, Germany to participate on the team that designed the approach and departure routes – known as the Terminal Instrument Procedures or "TERP's" – for all the military airports in Europe. Shortly before Tom and Linda married, the Air Force had sent Tom to TERPS School. While Tom was assigned to his post at Mainz-Kastel, Linda and Tom lived in nearby Wiesbaden Germany, for three years from 1981 to 1984, and the family spent some very happy years there. Linda and Tom took the kids on many happy trips all throughout Germany as well as into France and Austria and Holland and Switzerland. One of their favorite destinations was going skiing and ice skating in Berchtesgaden in the Bavarian Alps. This was their frequent after-Christmas trip. If you have ever been near Linda, and some German is spoken, and Linda translates it for you, it harks back to this happy period in Linda and Tom's life.
Tom and Linda returned to the United States in 1984, and in 1985 after 20 years of service, Tom retired from the Air Force. Tom then went to school at Rose State College, studying Aviation Technology and Aviation Management. In 1986, Tom went to work for the University of Oklahoma at the Mike Monroney Aeronautical Center as an Air Traffic Control En Route Instructor. In 1987 his duties were expanded to include developing the tests for certification as an Air Traffic Controller.
In 1990, Tom went to work at the Ardmore airport, and spent some time as their Tower Chief. Tom had a heart surgery in 2004, and sadly, had to stop working in a Control Tower because of his health issues. However, a few years later, in 2007 the Mike Monroney Aeronautical Center, then under the direction of Ratheon, called and asked him to come back and resume teaching. Tom did so until his retirement in 2012. Some people spend their life trying to find a career path; Tom knew his from the start. Tom loved airplanes, he loved flying, he loved Air Traffic Control, and he loved teaching his students at the Monroney Center. When they did well, he felt as if he had done well.
Later in life, when daughter Chanin gave birth to a son, Aarin, Tom found the great joy of grandparenting. Like many other grandparents, if Tom had been strict as a father, he was a pushover as a grandfather to Aarin. Aarin soon learned that he could get away with anything around Peepaw, his name for Tom. This even included, for example, having popcorn and chocolate cake for supper. And Tom was always available at a moment's notice to drive to Chanin's house and pick up Aarin for some adventure; at first at Chanin's call, and eventually at Aarin's call. For Aarin, one of the side benefits of all this attention was learning Peepaw's best jokes, and then springing them on the unsuspecting, for example, the pediatrician. Sometimes the maturity of these jokes were the cause of some chagrin for Chanin.
Tom was a man of wide and varied interests and talents. He could whistle a tune perfectly, and he could read Latin. He would work the New York Times crossword puzzle in ink, and he was an excellent ballroom dancer. He would make up songs to sing to Linda. His zany sense of humor showed in his songs, as well as in his love of fun, colorful socks and ties.
Tom loved his cowboy boots and his ballcaps. He had a hundred or more ballcaps, and his favorites were for his favorite teams, the Denver Broncos (but none from the hated Kansas City Chiefs) and the Boston Red Sox (and none from the hated New York Yankees). Tom eagerly awaited each football season, as well as March Madness basketball (his bracket was always filled out well in advance). When the World Series came around, Tom would watch every game.
Tom had a difficult fight with multiple illnesses, but he never lost hope, and he never lost faith. Tom's pastor would come to visit and together they would pray; Tom greatly enjoyed these visits. Tom's fight was hard, but with his faith, hope and Linda's love he persevered. One evening Tom commented, "Some people say they found God, but he was never lost, all you need to do is look up at the stars and know he is always there."
Tom's reference to the stars was apt; one of his little-known, secret desires was to become an astronaut and fly out to the stars.
All who knew Tom will miss his quick intelligence and his insatiable curiosity. If a person mentioned something that Tom did not yet know or understand, it was certain that Tom would launch a series of questions that would not end until Tom learned something new. And all who knew Tom will dearly miss his ever-ready wit. Tom was one of most naturally funny people many of us have ever known. Tom never lost his sense of humor; it was part of who he was and how he approached life. Toward the end, when a hospital staffer wanted to help Tom change a shirt that had a bloodstain on it, he playfully refused; when the staffer pressed, Tom explained: "I want to keep it on because it makes me look like war hero."
Finally, all who knew Tom and Linda know what a wonderful marriage they had. At the end of "The Princess Bride," William Goldman wrote, "Since the invention of the kiss there have been five kisses that were rated the most passionate, the most pure; this one left them all behind." So it has been with Tom and Linda's marriage. All who knew Tom and Linda know what a wonderful marriage they had. They truly loved one another and were happiest when in the company of each other. Simply holding hands meant so much to them. This marriage left them all behind.
Finally, we have a special word of remembrance from Linda to Tom:
"I miss you, I love you. Thank you for sharing your life with me. You are always in my heart. One day, we will once again hold hands, and waltz."
To send flowers or a remembrance gift to the family of Thomas Griffin Barry, please visit our Tribute Store.
Upcoming Events
Service
Christ Lutheran Church
501 N. clear Springs Road
Mustang, OK 73064
SERVICE CHANGE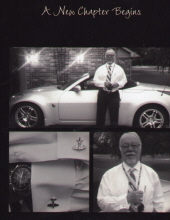 Thank you for sharing your
memory of Thomas
Provide comfort by sending fresh
flowers from our local florist.
No thanks, please don't show me this again.